DCS stands for Distributed Control System. In this article, I want to share the Specifications of DCS.
I want to share with you the specifications that need to be considered before selecting the Distributed Control System.
Introduction
As you know, DCS is a very complex part that is used for Industrial Automation. For DCS you have to consider many things and specifications before selecting DCS for your Plant.
In this article, I want to share with you what are the minimum technical and functional requirements for the selection, testing, calibration, installation, and commissioning of Distributed Control System (DCS).
It will help you understand more about the Distributed Control system and its selection process and how to follow the Specifications of DCS.
Specifications of DCS
1. Control room Environmental Condition
For the DCS control room, environmental condition is critical and a special design control room is provided for the DCS panel room.
For representing control room environmental conditions these three parameters are considered a priority.
Temperature
Humidity
Vibration
2. Isolation/Protection
In major cases, galvanic isolations are provided for all the field instrument signals and external signal isolators.
And also provide separate ground for DCS and Field system to reduce unwanted Noise.
Apart from galvanic isolation to field instrument signals, there is separate isolation provided between Operator Workstations/Engineering work stations and Controller for protecting Controller from High voltage that may pass from Monitor to Controller.
3. Human Machine Interface work stations (HMI) / OWS
---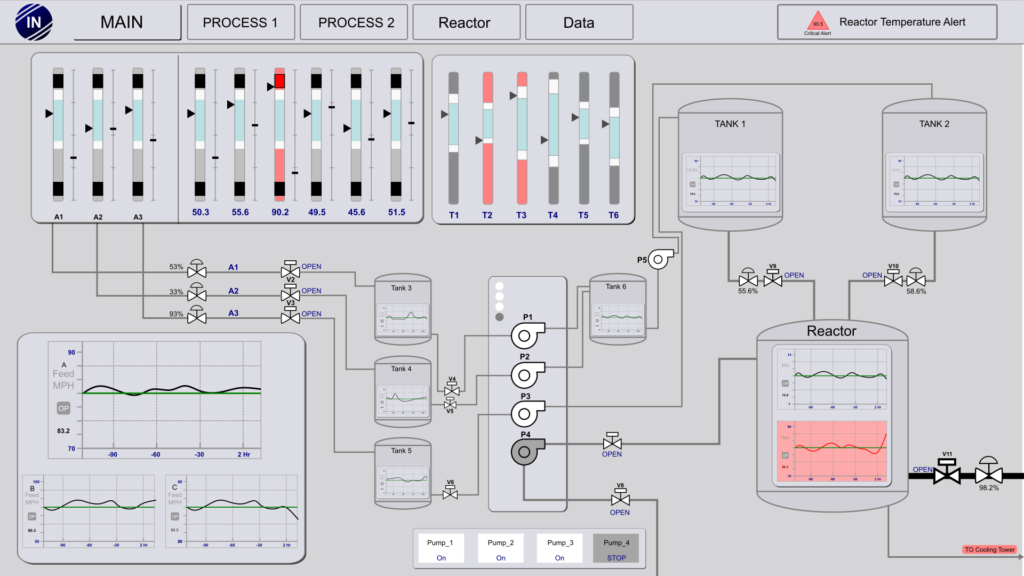 Display the Data that arrives from the field instrument via Field Control Unit. Also, display data of package control system like LCP of GCP that communicating to the main control system.
Process the data and display the alarm to the operator. Display the historical trend of each process data.
And also Perform system monitoring and diagnostic to detect the failure of hardware.
Generally, industries that somehow work with hazardous or flammable products use Industrial type PC-based Operator workstations.
The Operator workstations shall function as the main interface for the DCS, the compressor control system, the fire & gas system, the ESD system, the machine monitoring system, and other package equipment.
The DCS system shall support open interfaces with other systems such as higher-level management information systems and other business systems.
The system shall support TCP/IP-based links to these external systems. The DCS system shall support the use of "standards" commonly used in the Microsoft environment, including OPC and COM.
4. Communication
DCS should be Open architecture and connected with a firewall and able to exchange information between other third-party systems using an industrial standard protocol.
DCS system uses dual redundant Data Highway as the core Core communication to communicate FSC to Control Room.
Sometimes to archive High bandwidth dual redundant fiber optics cables are used to communicate between FCS stations and the Main Control room. Like communication between the turbine control panel and central control panel.
And DCS system also allows redundant connection to open 3rd party applications on qualified PCs. Bus Redundancy for OPC server shall be offered.
sometimes it also follows that All field process devices of different packages shall not be connected to the same FCS.
5. System Spare Capacity
System spare capacity is a very important part and is a requirement specially made for future expandability. I am giving an example of our project.
The spare capacity requirement may differ from project to project but generally, this requirement is considered.
• 1. The I/O Modules – 20% installed, wired, and fully functional I/O of all types used.
• 2. I/O Racks – 20% fully wired spare rack
• 3. Terminal Blocks – 20% spare terminal blocks shall be provided in cabinets
containing terminal blocks
• 4. The System Cabling – 20% spare pairs over and above the I/O module/rack space requirements
• 5. Fiber Optic Cables – 100% spare Fibers
• 6. DCS Communication Port – 100% spare
And the system is designed in such a way that at the completion of commissioning, no more than 60% of processing capacity and/or memory is utilized.
And the system communication network shall also be designed so as not to exceed 60% loading after the completion of commissioning.
System power supply units shall include 20% spare capacity over the required loading.
The system shall be designed such that 20% future expansion can be accommodated without any modification or replacement of existing equipment, communication systems, or software.
6. System Availability and Redundancy
In this article, I am showing you one of our project requirements as an example for easy to understand.
The system shall have an availability of 99.9999% with an assumed Mean Time to Repair (MTTR) of eight hours or less and a Mean Time Between Failures (MTBF)of 5,000,000 hours or more.
This shall be demonstrated by calculations as defined in standards. As a minimum the following equipment shall be redundant:
Communication Network including fiber optic cabling
Control Processors
Mass data storage devices
Power Supplies for all major system cabinets
I/O cards for control loops
Redundant network cards for the operator workstations
Network Hubs
7. System Protection Requirements
The system shall support different levels of access control either via the use of a removable key and/or by entering a pre-configured password.
It shall also be possible to configure user-specified functions to the following levels.
Operator Level: This level shall include typical operator functions and not require a key or password.
Supervisor Level: This level shall include all the operator functions as well as the preconfigured supervisory functions and shall require a key or password.
Engineering Level: This level shall include all functions and require a key and/or password.
Different types of keys shall be used for the supervisory and engineering levels. Once removed, access will revert to the operator level.
The system shall be provided with a firewall to protect unauthorized access from outside. The firewall shall be robust and industry-proven.
The system shall be provided with antivirus software. The Engineering Workstation (EWS) shall act as the Host for this Anti-Virus or Complete Protection Software which shall be installed/ updated in the EWS manually and the patches of the software shall be distributed to all the other systems from EWS.
End Note
There will be many other requirements that we will cover in part two of the DCS Specification article so stay tuned for the next articles.
If you have any doubts, feel free to comment below, and don't forget to share them with your friends or colleagues.
If you like this post you can also like my previous article on the Valve flow coefficient and how to calculate using a free tool.
---
---
And you can also follow our LinkedIn group which is specially made for sharing information related to Industrial Automation and Instrumentation.
---